Bolt Action Pen - Alligator Jaw Bone - Midnight Black Alumilite - Handcrafted Alligator Pen - Ballpoint Pen - Writing - Gator Pen - Gunmetal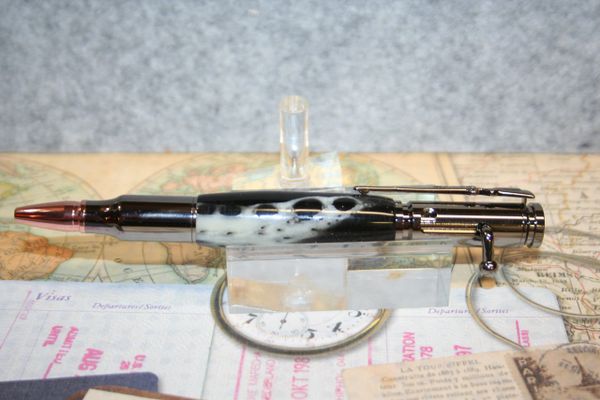 Bolt Action Pen - Alligator Jaw Bone - Midnight Black Alumilite - Handcrafted Alligator Pen - Ballpoint Pen - Writing - Gator Pen - Gunmetal
My handcrafted .30 Caliber Bolt Action designed pen in a wonderful piece of Alligator Jaw Bone within a Midnight Black styled alumilite resin is trimmed in a beautiful Gunmetal finished bullet casing and includes a matching rifle clip.  The pen is based on a bolt action rifle design with a bullet styled nib that is chrome plated. This pen is designed to write with for hours on end and has superb looks and appeal!  The pen exhibits excellent balance and has a great hand feel to write with. The bolt action mechanism that extends and retracts the ballpoint pen tip works flawless.

This pen is perfect for that sporting, reminiscent or journal entry.  This ball point writes extremely smooth with an effortless bolt action mechanism and is a pleasure to write with.  The bolt action mechanism operates very easily and the pen has a very nice overall balance designed into it.  

My pens are great for personal use or as an exquisite gift for that special someone, birthday, wedding, anniversary, client, guest, holiday, etc. These are one of a kind pens made from alligator jaw bone/alumilite formulations I personally select.

This pen features an Alligator Jaw Bone encapsulated in a Midnight Black themed and styled alumilite resin which allows the jaw bone to show through.  The black color beautifully highlight the jaw bone. The round holes seen are the tooth pockets in the jaw. The fine gunmetal finish tops off this beautiful pen.  This pen has that very outdoors look.  If you are searching for a great personal pen, this style is what you are looking for.  

All my pens are hand turned by me on my lathe and undergo a minimum 18 step finishing and polishing process to bring out the fantastic color tones hidden within and throughout the alligator jaw bone and alumilite.

                                     My Custom Handcrafted Pens make great gifts year round!

I do not use inferior woods, acrylic formulations or pen mechanisms in any of my pens or pencils!

This beautiful pen is handmade as a ball point pen trimmed in a fine gunmetal finish and uses a Parker style of ballpoint refill.  Refills are readily available at stationery stores everywhere, or through my website.  This is a highly polished and exquisite pen and requires a little maintenance to retain its gloss.   

Check out my store for all of my styles, designs and new additions.

Thank you for visiting my store for your premium writing needs.

Reviews