Cheese Board - Charcuterie Board - Handcrafted Live Edge Pistachio - Meat & Cheese Board - Wooden Cheese Board - Wood Charcuterie Board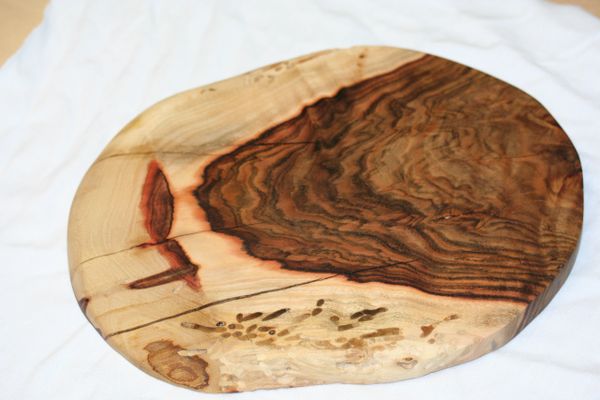 Cheese Board - Charcuterie Board - Handcrafted Live Edge Pistachio - Meat & Cheese Board - Wooden Cheese Board - Wood Charcuterie Board
My handcrafted natural live edge pistachio cheese board/charcuterie board is made from cross cut pistachio slabs (or biscuits) that show the beautiful deep brown heartwood in the wood.  The wood has been treated with food grade beeswax/mineral oil paste to saturate the wood fibers to keep the wood from drying out.  

The board can also be treated with olive oil, walnut oil or mineral oil/beeswax paste every 3 to 4 months to keep the board looking new and keeps the wood from drying out.

this charcuterie board can be used on either side and exhibits the beautiful pistachio rich brown coloration with the outer sapwood.  There are insect holes throughout the sapwood. I have left a few open for character, and filled in the rest with resin.  The board is absolutely stunning and will make a great serving platter.  Due to the small size of the Pistachio tree, this board is near the upper diameter of the tree.

I craft these when I can get the wood, so check out my other listings for a size that is appropriate for your use.

The size of this board is: oval 11" x 8.5" x 3/4".  This falls into my smaller size of cheese board.

My cheese boards are great bridal shower, wedding, anniversary gifts as well as a great gift for any occasion, or keep it for your own use.

Check out my store for all of my styles, designs and new additions.

Thank you for visiting my store for all your fine handcrafted accessory gift needs.
Reviews