Coffee Scoop - Coffee Beans in Clear Alumilite - Kitchen Tool - Coffee Beans - Titanium Gold Finish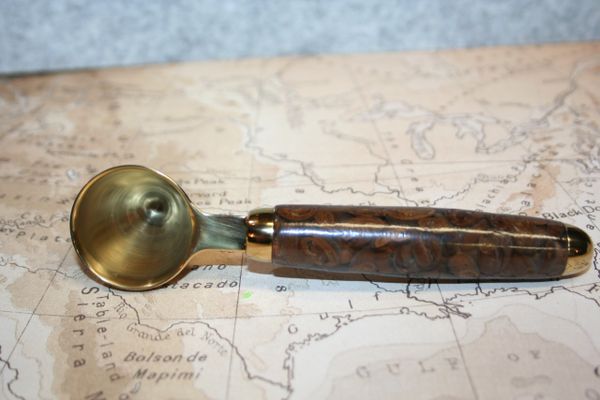 Coffee Scoop - Coffee Beans in Clear Alumilite - Kitchen Tool - Coffee Beans - Titanium Gold Finish
My handcrafted Coffee Scoop in titanium gold uses a fantastic piece of real Coffee Beans in a Clear alumilite as the handle . The Coffee Scoop is made of plated titanium gold.  This coffee scoop is part of my Slim line of personal accessories.  The Coffee Scoop is perfect for measuring out just that right amount of coffee.

The handle is 3 inches long with an overall length of 5 3/8 inches.  The handle is 5/8 inch in diameter and the coned coffee scoop head is 1 1/4" in diameter and 1 1/4 inch in depth.

These are real coffee beans embedded within the alumilite.  The handle is slightly sealed and the ends are NOT so that you can get the coffee aroma when using the scoop.  THIS SCOOP IS NOT DISHWASHER SAFE OR TO BE SOAKED IN ANY CONTAINER OF WATER AS THE COFFEE BEANS WILL SWELL AND FALL OUT OF THE BLANK.  This is not warranted for this type of cleaning.  This scoop should be gently wiped down with a lightly dampened cloth to clean.  This handle has some inclusions and textures where some small pieces of beans have  fallen out of the outer shell during turning which gives this handle a great feel.

If you would like a completely sealed handle, please let me know and I will be happy to turn one for you.  You will not, however, have a coffee aroma from the scoop,
 
My accessories are great for personal use or as an exquisite gift for that special someone, birthday, wedding, anniversary, client, guest, holiday, housewarming, etc. These are one of a kind accessories made from acrylic formulations, coffee beans and designs I personally select.   The Coffee Scoop is also available in Stainless Steel.

All my accessories are hand turned by me on my lathe and undergo a minimum 18 step finishing and polishing process to bring out the fantastic colors embedded throughout the coffee bean and acrylate handle.  The handle is finished for hand washing as needed.  Unfortunately, due to sealing the handle, the fresh scent of coffee is covered. Should you want one unfinished, please special order one - there is no guarantee on water contact with unfinished natural product handles.

                           Custom handcrafted coffee scoop's make excellent gifts!
 
I do not use inferior woods, acrylic formulations or mechanisms in any of my accessories, pens or pencils!

This coffee scoop is manufactured from plated titanium gold for durability.  This is a highly polished and exquisite household accessory and requires little maintenance to retain its gloss.  

Custom orders are accepted for this item (Wood, Acrylic, Tru-Stone) as well.   Please email me if you would like a coffee scoop handle in any other wood, acrylic or Tru-Stone finish than what is pictured.

Check out my store for all of my styles, designs and new additions.

Thank you for visiting my store for your fine hand turned kitchen accessory and gift needs.
Reviews