Coffee Scoop - Handcrafted Coffee Scoop - Amazon Explosion Alumilite - Heavy Duty Coffee Scoop - Scoop - Kitchen Utensil - Coffee - Gold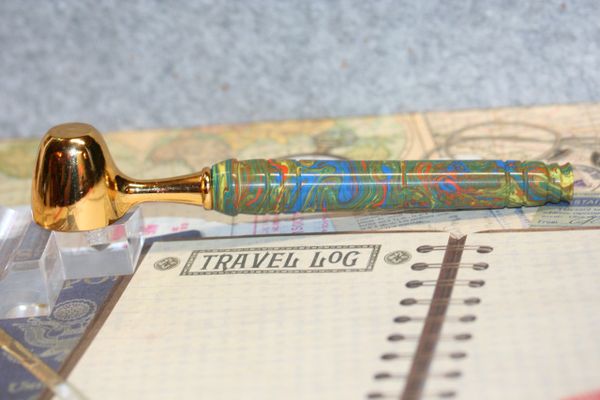 Coffee Scoop - Handcrafted Coffee Scoop - Amazon Explosion Alumilite - Heavy Duty Coffee Scoop - Scoop - Kitchen Utensil - Coffee - Gold
THIS IS A SECOND QUALITY COFFEE SCOOP THAT I RARELY SELL, BUT THE COLORFUL HANDLE MAKES THIS COFFEE SCOOP UNIQUE.  This premium alumilite scoop would normally sell for $35.99. SEE PHOTO #6 FOR THE DEFECT AREA.

My heavy duty handcrafted Coffee Scoop in Gold plate uses a nice piece of Amazon Explosion Alumilite as the handle. The Coffee Scoop is made of Gold plated steel.  This coffee scoop is part of my Heavy Duty line of household accessories.  The Coffee Scoop is perfect for measuring out just that right amount of coffee. This heavy duty scoop is perfect for the cabin, camping and wherever a great scoop is needed.

The handle is 4 1/2 inches long with an overall scoop length of 6 1/2 inches.  The handle is 5/8 inch in diameter and the coned coffee scoop head is 1 1/4" in diameter and 1 1/4 inch in depth, measuring out 1 tablespoonful of coffee.  The scoop is rated at 1 tablespoon of coffee.  

This handle has a lot of color and character in it. The magnificent colorful swirls throughout the handle is reminiscent of a trip through the Amazon.  It has a nice grip whether your hand is wet or not.  The finish brings this colorful scoop handle to life. For a second quality scoop, I hope you like it as much as I do.
 
My accessories are great for personal use or as an exquisite gift for that special someone, anniversary, wedding, client, guest, holiday, etc.

A beautiful swirling of color wrap around the handle of this scoop and makes a unique coffee scoop handle. These are one of a kind accessories made from premium alumilite formulations I personally select.  

All my accessories are hand turned by me on my lathe and undergo an 18 step finishing and polishing process to bring out the fantastic swirls embedded throughout the alumilite.

                           Custom handcrafted coffee scoop's make excellent gifts!
 
I do not use inferior woods, acrylic formulations or mechanisms in any of my turnings!

This coffee scoop is manufactured from Gold plated steel for added durability.  This is a highly polished and exquisite household accessory and requires little maintenance to retain its gloss.  

The handle is water resistant for very short periods. The scoop is NOT SUITABLE FOR DISHWASHER USE OR TO BE IMMERSED IN WATER.  A gentle wiping is all that is needed to clean the scoop and keep it looking like new.  

The scoop does NOT come apart for cleaning.

Check out my store for all of my styles, designs and new additions.

Thank you for visiting my store for your premium hand turned kitchen accessory needs.
Reviews