Cutting Board - 22 x 11 Inches - Curly Bubinga - Large Cutting Board - Chef Board - Exotic Wood - Wood - Gift - Butchering - Kitchen Block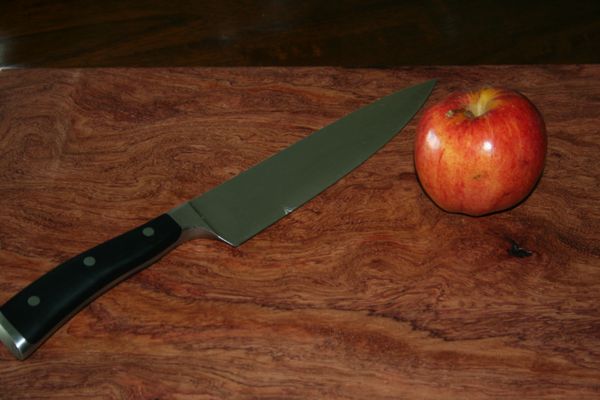 Cutting Board - 22 x 11 Inches - Curly Bubinga - Large Cutting Board - Chef Board - Exotic Wood - Wood - Gift - Butchering - Kitchen Block
My handcrafted Butcher Block Cutting Board is made from Exotic African Curly Bubinga hardwood. This is a large size cutting board at 22" in length and 11" in width is perfect for heavy duty use and can take on the largest cutting or butchering needs.  The cutting board is heavy, approx 3.37 kg (approx. 7.22 lbs).  This is a portable, heavy duty butcher block cutting board crafted for all those large scale light and heavy duty situations.

This cutting board is comprised of Curly Bubinga from Africa.  The "Curly" designation is also known as Waterfall Bubinga due to the appearance of the grain. This is a heavy duty all purpose cutting board.

The cutting board is finished with a food grade Mineral oil/beeswax paste. It is advisable to treat your cutting board every couple of months (depending upon usage) using a good food grade paste consisting of the mineral oil and beeswax to avoid drying out.

I make my cutting boards in several sizes and made from exotic woods, as this one, and also using Domestic hardwoods as well as the exotic/domestic hardwood mix.  I also make cutting boards in approximately 11" width up to 22" in length, or longer, as needed.  I also take special orders.

More selections and styles will be added to the shop in the very near future.

Thank you for visiting my shop for all your premium kitchenware and gift ideas.
Reviews