Fountain Pen - Cholla Cactus in Red Alumilite - Jr Statesman II Fountain Pen - Cholla Cactus Pen - Writing - Executive - Rhodium & 22ct Gold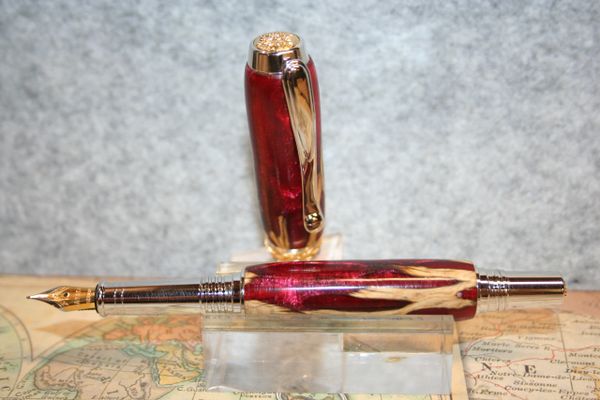 Fountain Pen - Cholla Cactus in Red Alumilite - Jr Statesman II Fountain Pen - Cholla Cactus Pen - Writing - Executive - Rhodium & 22ct Gold
My Jr Statesman II premium handcrafted Fountain pen in a fine and beautiful piece of Cholla Cactus within a Red alumilite resin is trimmed in a beautiful, bright and durable Rhodium with 22ct Gold accents finish.  With a truly distinctive styling, this pen looks and writes spectacularly. The pen is part of my exciting premium larger barrelled Jr Statesman II pen line.  The gold iridium nib writes very smooth and is a pleasure to write with, yet this pen has a great hand feel and exceptional balance for its size.  

My pens are great for personal use or as an exquisite gift for that special someone, birthday, wedding, anniversary, client, guest, holiday, etc. or for yourself

Cholla cactus represents more than 20 types found in North American deserts. Cholla is a term applied to various shrubby cacti with cylindrical stems composed of segmented joints.   Cholla cactus are the only cactus with papery sheaths covering their spines. These sheaths are often bright and colorful, providing the cactus with its distinctive appearance. The cactus grows from desert floors to grasslands to lower mountain slopes.  The dried cactus is stabilized and infused within a red alumilite resin. The turned pen shows the beautiful cactus spine in the red resin. The pen has 22ct gold plated embellishments on the top of the cap and the nib end. This makes a great executive style pen. If you are searching for a great personal pen, this style is what you are looking for.  A presentation box is included.

These are one of a kind pens made from exquisite and beautiful dyed Cholla Cactus designs that I personally select. No two pens will ever be alike!!!

All my pens are turned by me on my lathe and undergo a minimum 18 step finishing and polishing process to bring out the fantastic colors embedded in this cactus and the rhodium and 22 ct gold accents on the pen.  

                                 Custom Handcrafted Pens make great gifts!

I do not use inferior woods, acrylic formulations or pen mechanisms in any of my pens or pencils!

This handmade pen is made as a Fountain Pen finished in exquisite, bright and very durable Rhodium with 22 ct Gold accents finish and uses an ink converter (pump) or can use a standard cartridge refill (all included).  Refills and ink bottles are readily available at stationery stores, as well as  through my website and on Etsy.  This is a highly polished and exquisite pen and requires little maintenance to retain its luster.  

Included with this pen is a pen presentation case.

Check out my store for all of my styles, designs and new additions.

Thank you for visiting my store for your premium writing and gift needs.
Reviews