Handcrafted Acrylic Pen - Jr Gentlemen Holiday Explosion of Color Artisan Acrylic Roller Ball Pen in a Bright Gold Finish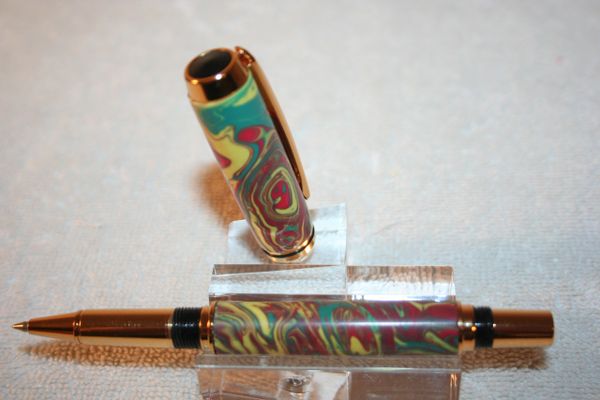 Handcrafted Acrylic Pen - Jr Gentlemen Holiday Explosion of Color Artisan Acrylic Roller Ball Pen in a Bright Gold Finish
My handcrafted Jr Gentlemen acrylic pen in beautiful, exquisite and colorful Holiday Explosion artisan acrylic is trimmed in a beautiful and distinctive Gold finish. The pen is from my Jr Gentlemen line of fine writing instruments and definitely has that holiday cheer look. This pen is designed for many hours of writing and has fine balance to it. This roller ball writes extremely smooth and is a pleasure to write with having great hand feel. The cap is postable (screws onto the body during use) so you won't lose the cap.
My acrylic pens are great for personal use or as an exquisite gift for that special someone, birthday, wedding,anniversary, client, guest, etc. These are one of a kind pens made from artisan acrylic formulations that I personally select.
This pen exhibits a potpourri of holiday colors exploding around the barrel of the pen. Very vivid, bright and insightful, the artisan acrylic used almost has a crayon appearance. The colors are masterfully blended by an artisan in San Antonio and are very desirable. I have been increasing my styles due to customer requests for the vivid color schemes available. This Holiday Explosion brings together all the colors of the holidays in one pen and will surely be talked about year round. Included is a hard shell presentation box.
I have several styles listed in the shop and on my website so you can see what is possible with these beautifully crafted and produced acrylic formulations.
All my pens are hand turned by me on my lathe and undergo a minimum 8 step finishing and polishing process to bring out the fantastic colors and swirls embedded throughout this artisan acrylic.
My Custom Handcrafted Pens make great gifts!
I do not use inferior woods, acrylic formulations or pen mechanisms in any of my pens, pencils or other turnings!
This acrylic pen is handcrafted as a roller ball trimmed in a fine, bright Gold finish and uses a Schmidt style of roller ball refill. Refills are readily available at all stationery stores everywhere. This is a highly polished and exquisite pen and requires little maintenance to retain its gloss.
Check out my store for all of my styles, designs and new additions.
Thank you for visiting my store for all your writing and gift needs.
Reviews