Razor - Safety Razor - Razor Stand - Olive Green Acrylic - Handcrafted - Chrome Safety Razor with Matching Olive Green Deluxe Chrome Razor Stand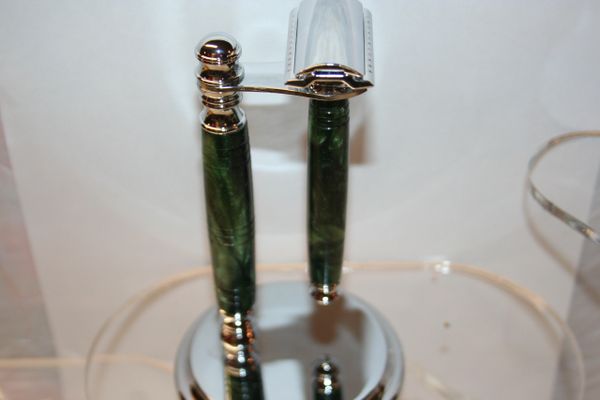 Razor - Safety Razor - Razor Stand - Olive Green Acrylic - Handcrafted - Chrome Safety Razor with Matching Olive Green Deluxe Chrome Razor Stand
My beautiful handcrafted Safety razor handle uses any safety razor blade and refills.  This razor handle is handmade in a very tasteful and beautiful Olive Green acrylic and topped off with a great bright Chrome finish.  The thin white swirls wrap around the Olive Green razor handle providing contrast to the base olive green color.  This razor will last for many years as the acrylic handle is completely waterproof. Complementing this razor is a matching bright chrome stand with a matching Olive Green post on the stand.
The razor and stand come completely apart for ease of cleaning.  
The razor handle and stand post are hand turned on my lathe and makes a fantastic gift. This is an exquisite combination piece with one of a kind handcrafted safety razor handle and stand post.
As always, this razor set can be used by both men and women.
               Custom handcrafted razor sets make excellent gifts year round, to give or to keep.
My safety razors are available separately from the stand if so desired - just initiate a custom request.
Tru-Stone is my most expensive razor handle, but will last a lifetime, as will the acrylics.  All wooden handles are completely sealed against water entry.
Visit my store for all of my designs, styles and new additions. 
Thank you for visiting my store for all your fine handcrafted personal accessories and gifts.
This is a fairly heavy set as razor/stands go, which is why shipping is priced as it is.
A Note For My Canadian Customers - For in country shipping, I will ship via Xpresspost for the best shipping rate.
Reviews