Handcrafted Cuff Links - Alexander Keith India Pale Ale Beer Cap with 24 ct Gold Plated Knurled Posts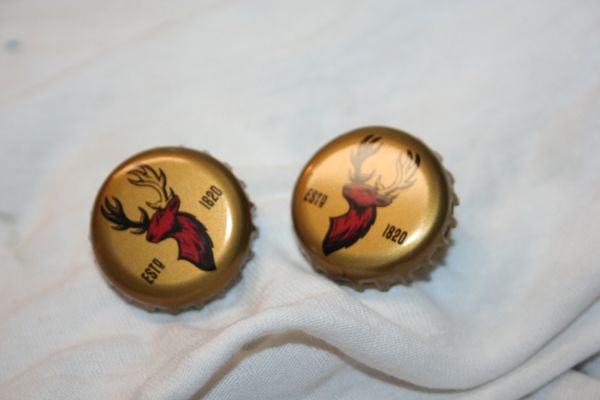 Handcrafted Cuff Links - Alexander Keith India Pale Ale Beer Cap with 24 ct Gold Plated Knurled Posts
Handcrafted Cuff Links made from Alexander Keith India Pale Ale Beer Caps set in bright 24 ct Gold Plated Bezels with knurled T-posts.
The bezels are set in a premium clear resin for added durability.  Caps are original Alexander Keith India Pale Ale Beer caps.  These cuff links look great on a shirt (see photo's). The knurled posts add distinction to the reverse of your cuffed shirt.
                                     My handcrafted cuff links make great gifts anytime.
See my store for my handcrafted and hand turned wooden and acrylic selections as well.
Included is a velvet sleeve to keep your cuff links in.  
The cuff links are shipped in a small square box for added protection.  NOTE: For my CANADIAN customers:  Please note that shipping varies across the country.  Shown is the maximum shipping cost to western Canada.  Eastern Canada shipping is less. (same with the Xpresspost option).  Please initiate an email for exact shipping costs if you prefer.  Excess shipping is immediately refunded.
Check out my store for all of my styles, designs and new additions.
Thank you for visiting my store for all your fine handcrafted gift needs.
Reviews