Handcrafted Razor Handle for Gillette Fusion Pro-Glide in Bone with Copper Veins Faux Stone, Finished in Bright Gold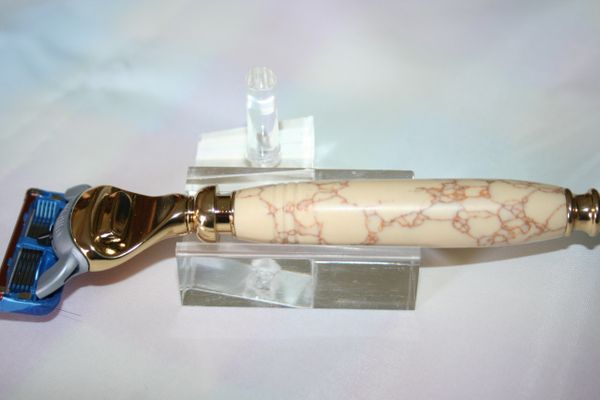 Handcrafted Razor Handle for Gillette Fusion Pro-Glide in Bone with Copper Veins Faux Stone, Finished in Bright Gold
My beautiful handcrafted classic styled razor handle in Bone (Ivory) with Copper Veins Faux Stone that uses any Gillette Fusion style razor cartridges and refills. This handle is hand turned in an elegant and beautiful Bone with Copper Veins Faux Stone and topped off with a great bright Gold finish. This razor handle will last for many decades and the handle is completely waterproof.
The Bone with Copper Veins Faux Stone has a beautiful Ivory (bone) tone with muted copper veins throughout the razor handle. All of this is brought out beautifully with the bright Gold razor components.
NOTE: This razor handle is for any Gillette Fusion razor ONLY. Please see my other listings for the Gillette Mach 3/Venus style razors.

The razor handle is hand turned on my lathe and makes a fantastic gift. The razor handle comes with one cartridge. Refills can be purchased in almost any store. This is a remarkable one of a kind handcrafted razor handle.
I have two styles of handles available for the Fusion Pro-Glide, the classic style, as listed here, and the bullet style. Both are available in the same materials that you might desire.
Custom handcrafted razor handles make excellent year round gifts to give, or just treat yourself!
Razor handles can be custom ordered in a variety of Tru-Stone, over 100 styles of Acrylics and over 100 different types of wood. Finishes are only available in bright Gold, Chrome and Gunmetal. Ask me to initiate a custom request for the razor handle of you choice or a nice presentation box for a price quote and shipping costs. More styles will be listed in the store routinely.
Stone is my most expensive razor handle, but will last a lifetime, as will all the acrylics. All wooden handles are completely sealed against water entry.
Visit my store for all of my designs, styles and new additions.
Thank you for visiting my store for all your fine turned personal needs products and gifts.
Please note that shipping may be less than listed below due to errors in the calculator. As always, any excess shipping charges are refunded.

Reviews