Handcrafted Razor Handle for Gillette Mach 3/Gillette 3 in Exquisite Red and Black Tru-Stone Finished in Satin Chrome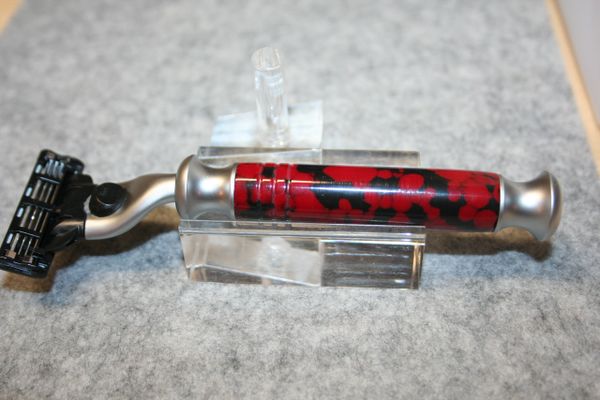 Handcrafted Razor Handle for Gillette Mach 3/Gillette 3 in Exquisite Red and Black Tru-Stone Finished in Satin Chrome
My beautiful handcrafted razor handle in Red and Black Tru-Stone that uses any Gillette Mach 3/Gillette 3 or Venus style razor blades and refills.  This razor is handcrafted in a beautifully colored and detailed piece of Red and Black Tru-Stone and topped off with a Satin Chrome finish.  This razor will last for many years and the stone handle is completely waterproof.  
The Red and Black Tru-Stone has beautiful colorful tones as in a red and black pattern throughout the razor handle. All of this is brought out beautifully with the satin chrome finish.
NOTE: This handle will not fit the newer Fusion Pro-Glide/Gillette 5 cartridges which use a different cartridge receiver.  My Fusion Pro-Glide handles are listed separately in the store.
This razor handle is hand turned on my lathe and makes a fantastic gift.  The razor comes with one blade to get you started.  Refills can be purchased at any store.  This is truly a remarkable one of a kind handcrafted razor handle that fits well in hand. 
The handle is well weighted and retains its color year after year.  Since it is composed of actual stone and resins, it is completely waterproof and perfect for the shower or bathroom.
This razor handle can be used by both men and women. Great gift for any birthday, wedding, anniversary, guest gift, client gift, etc.
                My Custom Handcrafted razor handles make excellent year round gifts!
Visit my store for all of my designs, styles and new additions.  Razor handles can be custom ordered in a variety of Stone, over 100 styles of Acrylics and over 100 different types of wood. Finishes are available in Satin Chrome, Gold, Chrome, Gunmetal and Black Satin. Just ask me to initiate a custom order request for a quote.
Stone is my most expensive razor handle, but will last a lifetime, as will all acrylics.  All wooden handles are completely sealed against water entry.
Check out my store for all of my styles, designs and new additions.
This is a great item for man or woman.
Thank you for visiting my store for all your fine personal accessory, shaving needs and gifts.
Reviews