Ballpoint Pen - Cartridge Bullet Pen - Urban Camo Acrylic - Handcrafted Acrylic Pen - Pen - Gunmetal Finish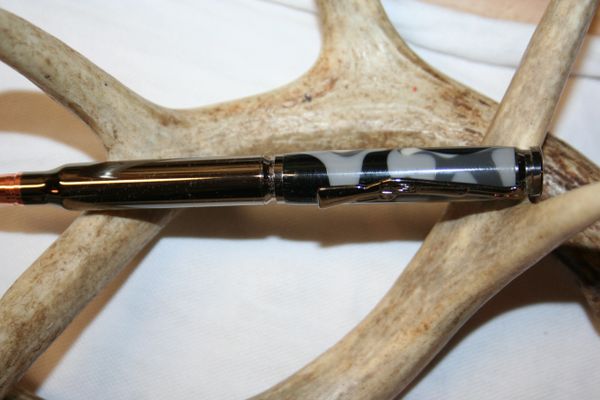 Ballpoint Pen - Cartridge Bullet Pen - Urban Camo Acrylic - Handcrafted Acrylic Pen - Pen - Gunmetal Finish
My handcrafted .30 Caliber Cartridge Bullet Pen in exquisite and striking piece of Urban Camo Acrylic is trimmed in a beautiful and  bright Gunmetal finished shell casing and includes a matching rifle clip.  The pen is based on a .30-06 caliber cartridge with a copper plated tip, not simulated like other styles. This pen is designed to write with for hours on end and has superb looks and appeal!
This pen is perfect for that hunting or other journal entry.  This ball point writes extremely smooth with an effortless twist mechanism and is a pleasure to write with.  The twist mechanism works quite well and the pen has a nice balance overall.  
My pens are great for personal use or as an exquisite gift for that special someone, wedding, anniversary, client, guest, etc. These are one of a kind pens made from premium acrylic formulations I personally select.
This is the perfect gift pen for the sportsman, soldier, shooting or hunting enthusiast.
The Urban Camo design is one of the many camo designs I stock and is highlighted by the grays, blacks and white colors that wrap the barrel and provide the great urban camo design. This is a great pen for the hunter, shooter or military member of the family or friend, or just for you.  Check out my other camo designs throughout the store as well as in Elk and Whitetail Deer and, and soon in an Alligator Jaw Bone design.
All my pens are hand turned by me on my lathe and undergo a minimum 18 step finishing and polishing process to bring out the fantastic color tones hidden within and throughout the antler.
                                     My Custom Handcrafted Pens make great gifts!
I do not use inferior woods, acrylic formulations or pen mechanisms in any of my pens or pencils!
This acrylic pen is handmade as a ball point pen trimmed in a high gloss Gunmetal finish and uses a Parker style of ballpoint refill.  Refills are readily available at stationery stores everywhere.  This is a highly polished and exquisite pen and requires a little maintenance to retain its gloss.   
Check out my store for all of my styles, designs and new additions.
Thank you for visiting my store for all your writing and gift needs.
MY BULLET PENS CAN BE ORDERED IN THREE (3) FINISHES - GOLD, CHROME OR GUNMETAL.  THE BEST SELLING PENS ARE IN ANTLER OR ANY OF MY CAMO PATTERNS (FROM JUNGLE, DESERT, URBAN, AUTUMN, WOODLAND, MURKY FOREST, DESERT SAND, SWAMPLAND CAMO, AND ADDING MORE STYLES ALL THE TIME).  Just put in a custom request and I will make the pen in any style and finish you desire.
Reviews