Handcrafted Wooden Pen - Ironwood Laminate Slim Twist Pen and Click Pencil Set in a Bright Platinum Finish with a Presentation Box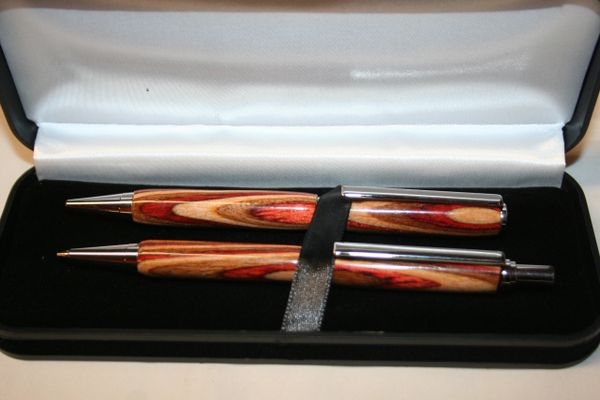 Handcrafted Wooden Pen - Ironwood Laminate Slim Twist Pen and Click Pencil Set in a Bright Platinum Finish with a Presentation Box
My handcrafted matched slim twist pen and click pencil set in an Ironwood Laminate hardwoods is trimmed in a premium bright Platinum finish.  Included is a black hard shell felt/satin lined Presentation box. The pen and pencil are from my Slim line of fine writing instruments.  The pen is designed for hours of writing and has good hand feel.  The ball point writes smoothly, has an effortless twist mechanism and is a pleasure to write with. The pencil has a solid click mechanism found on more expensive pencils and uses standard 0.7 mm lead. 
My pens and pencils are great for personal use or as an exquisite gift for that special someone, birthday, wedding, anniversary, client, guest, etc. These are one of a kind pens and pencils made from hardwoods I personally select. This gift set will long be remembered.
This custom set has is composed of a beautiful ironwood laminate from dyed hardwoods to create the stunning effect when turned on the lathe.  This set shows the distinct coloration of the hardwood as lighter and darker shades of brown, bronze and deep red are present throughout.  A bit different than what I normally piece together, but the contrast in the pen and pencil are truly unique. Turning brought out the hidden design in the wood. Classically designed, this pen and pencil set makes an excellent gift.
All my pens/pencils are turned by me on my lathe and undergo a minimum 18 step finishing and polishing process to bring out the beautiful colors embedded within the hardwood.  
                                  Custom Handcrafted Pens and Pencils make great gifts!
I do not use inferior woods, acrylic formulations or mechanisms in any of my pens or pencils!
This pen is handmade as a ball point trimmed in bright Platinum and uses a Cross style of refill.  The pencil is also trimmed in bright Gold and uses 0.7 mm leads.  Refills of both are readily available at stationery stores everywhere.  This is a highly polished and exquisite pen and pencil set which requires little maintenance to retain its gloss.   
Check out my store for all of my styles, designs and new additions.
Thank you for visiting my store for all your fine writing and gift needs.
The set is shipped in a sturdy protective box to keep shipping costs as reasonable as possible.
Reviews