Lever Action Pen - Green & Yellow Dyed Buckeye Burl - Old West Pen - Rifle Pen - Handcrafted - Wooden Pen - Pen - Beautiful Antique Nickel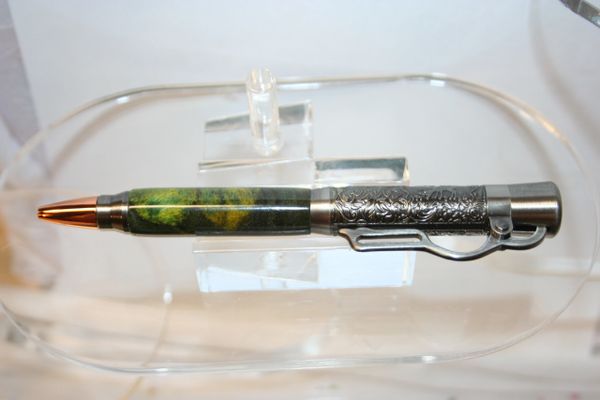 Lever Action Pen - Green & Yellow Dyed Buckeye Burl - Old West Pen - Rifle Pen - Handcrafted - Wooden Pen - Pen - Beautiful Antique Nickel
My wooden handcrafted Lever Action inlay pen in an exquisite and striking piece of Green and Yellow Dyed Buckeye Burl is trimmed in a beautiful and bright Antique Nickel finish.  The pen is based on a lever action rifle design with a bullet styled nib that is copper plated. This pen is designed to write with for hours on end and has superb looks and appeal, with beautiful etchings on the lever action mechanism!  The pen exhibits excellent balance and has a great hand feel to write with. The lever action mechanism used to extend and retract the ballpoint pen tip works flawless.
This pen is perfect for that sporting, reminiscent or other journal entry and will be enjoyed by outdoor enthusiasts as well as sportsmen/women.  This ball point writes extremely smooth with an effortless bolt action mechanism and is a pleasure to write with.  The bolt action mechanism operates very easily and the pen has a nice overall balance.  
My pens are great for personal use or as an exquisite gift for that special someone, birthday, wedding, anniversary, client, guest, etc. These are one of a kind pens made from premium hardwoods I personally select.
If you've never had a pen made from a piece of burl, you don't know what you have missed with the swirls and eyes throughout the wood!  
This pen is dyed a brilliant emerald green and yellow and highlighted with the Antique Nickel Finish.  The eyes, swirls and voids are dramatically seen and well distinguished with color tones throughout the pen body.  You will want to keep this pen for yourself. This particular pen has swirling grain and eyes at the surface which make it a one-of-a-kind beautiful pen. Coupled with the finish, this pen is spectacular.  Included is a hard shell presentation box.
                                                    My Custom Handcrafted Pens make great gifts!
I do not use inferior woods, acrylic formulations or pen mechanisms in any of my pens or pencils!
This wooden pen is handmade as a ball point pen trimmed in a bright Antique Nickel finish and uses a Parker style of ballpoint refill.  Refills are readily available at stationery stores everywhere.  This is a highly polished and exquisite pen and requires a little maintenance to retain its gloss.   
Check out my store for all of my styles, designs and new additions.
Thank you for visiting my store for all your premium writing and gift needs.
Reviews