Handcrafted Wooden Pen - Vermont Forest Multifunctional Pocket Tool in a Bright Gold Finish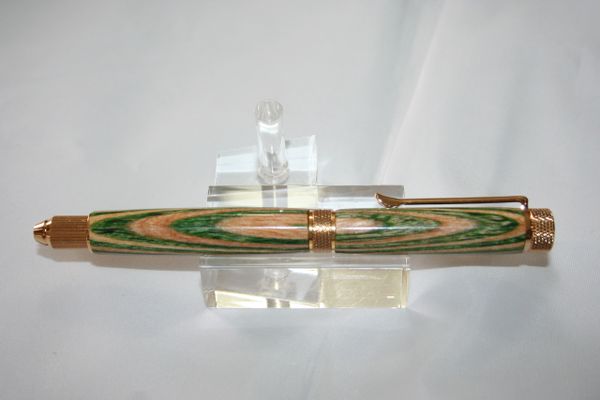 Handcrafted Wooden Pen - Vermont Forest Multifunctional Pocket Tool in a Bright Gold Finish
My handcrafted versatile Multi function Pocket Tool in fine piece of beautifully style Vermont Forest laminate is trimmed in a bright Gold finish.  This unique tool is quite handy, and even has a ballpoint pen. Dubbed the "Swiss Army Knife" of pens!  Just unscrew the cap or the center ring and choose from a handy ballpoint pen refill, paper knife, tweezers, Phillips or slotted screwdriver. All are stored in the cap end of the tool for easy removal and use (knife edge faces down for safety).  Just lock your selection in the lower barrel of the body and you're ready to imitate "MacGyver".

The tool is unique in my offerings and works well when in a tight spot.  Great to leave in the car, truck, boat, camper, etc. for emergency use, or just carry around daily "just in case".  

These laminate pen collections of hardwood strips are chosen for the colors and tones exhibited in the finished pen. This pen is comprised of natural and green dyed hardwood laminated in small strips and cut to have the design turn out as desired.  The green and natural coloration stand out vividly forming the Vermont Forest, with the gold and black on the pen body matching well with the design.  The bright Gold finish makes this tool pop!  These pocket tools don't last long at this price for this finish and wood combination.
 
My accessories are great for personal use or as an exquisite gift for that special someone, birthday, wedding, anniversary, client, guest, etc. These hardwoods are chosen for the colors and tones exhibited in the finished product.  A presentation case is included.

All my items are hand turned by me on my lathe and undergo a minimum 18 step finishing and polishing process to bring out the fantastic grain and color embedded within the hardwood.  

I do not use inferior woods, acrylic formulations or parts in any of my accessories!

                                Custom Handcrafted Turned Pieces make great gifts!  

This is one item that will be talked about when in use.  These don't last long in the store, so get it quickly if you want one.

This multi-functional pocket tool is handcrafted in a bright Gold finish.  This is a highly polished and exquisite tool/pen that I finished with a glass like finish and requires little maintenance to retain its luster.   

Check out our store for all of my styles, designs and new additions.

Thank you for visiting my store for all your fine personal/camp/home/auto accessory and gift needs.
Reviews