Ice Cream Scoop - Heavy Duty - Spalted Red Curly Maple - Stainless Steel - Handcrafted - Rustic Designed - Hand Turned Handle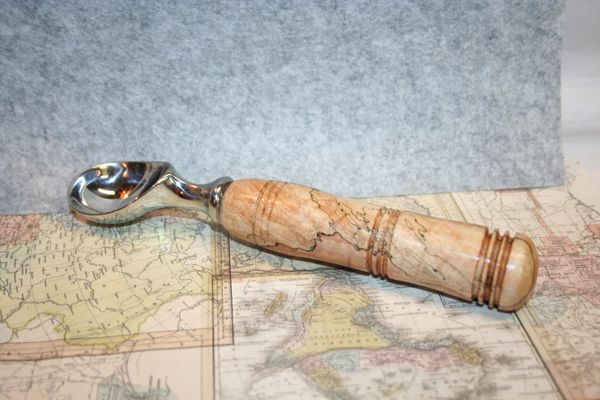 Ice Cream Scoop - Heavy Duty - Spalted Red Curly Maple - Stainless Steel - Handcrafted - Rustic Designed - Hand Turned Handle
My handcrafted heavy duty Ice Cream Scoop in Bright Stainless Steel with a rustic designed hand turned North American Spalted Red Curly Maple handle will surely be a talked about device for your entertaining events.

The heavy duty Ice Cream Scoop is steel coated in a bright stainless steel.  The wide hand turned handle is made from a beautiful section of Spalted Red Curly Maple and finished in a complementing rustic style finish to get through the hardest ice cream.  The handle is beautifully marked spalting lines that comes through the ivory color and makes the handle pop.

North American Spalted Red Curly Maple comes from the northeast section of the United States and eastern Canada. Spalted Red Curly Maple is usually referred to as a Sugar Maple, and is a tree often tapped for maple syrup. Sugar Maple's leaves (they typically have either 5 or 7 lobes) and are the shape that most people associate with maple leaves and seen on the Canadian Flag.

The overall scoop is 8" in length and 1 1/2" wide.  The scoop is 2 1/4" long x 1 3/4" wide.  The handle is 5" long and 3/4" wide. The scoop can screw off for cleaning  in a dishwasher.  

NOTE: THE HANDLE SHOULD NOT BE SUBMERGED IN WATER.  THE HANDLE SHOULD BE WIPED CLEAN WITH A DAMP TOWEL.  THE SCOOP WILL UNSCREW FROM THE HANDLE FOR WATER SUBMERSION OR DISHWASHER CLEANING.  This handle can be wiped with vegetable oil from time to time to keep its shine.  The scoop is easily wiped clean with a damp towel.

I turned this handle a bit chubby for added strength when used with hard ice cream.  The handle is finished with a fine wood-turners finish. A beautiful piece all together and one to scoop out smiles f or many years.

                                 Handcrafted Turnings Make Excellent Gifts for any Occasion year round

Check out my store for all of my styles, designs and new additions.

Thank you for visiting my store for your fine writing and gift needs.
Reviews