Leather Pen Sleeve - Chocolate Brown Pen Sleeve - Handcrafted Chocolate Brown Dyed Leather Pen Sleeve - Pen Sleeve - 100% Premium Cowhide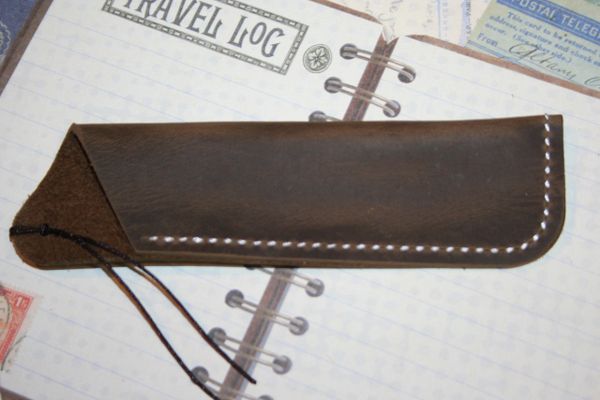 Leather Pen Sleeve - Chocolate Brown Pen Sleeve - Handcrafted Chocolate Brown Dyed Leather Pen Sleeve - Pen Sleeve - 100% Premium Cowhide
My Handcrafted Leather Pen Sleeve in a supple Chocolate Brown dyed Leather Pen Sleeve (pen not included).  The Chocolate Brown Leather Pen Sleeve is a smooth, supple and clean unmarked leather sleeve, dyed in a Chocolate Brown color.

These pen sleeves are handcrafted to complement my pen lines.  Each sleeve is meticulously styled and crafted.  The design mimics the advertised style and has a pen shown for size relationship.  They are made from 100% premium cowhide and dyed in the specific color.  These are sure to please and become conversation pieces while protecting your valued pens and pencils.  The leather is so supple it will not mark your pen and fit to its shape in time.  While supple, it is extremely durable.

All my pen sleeves are approximately 1 - 1/4 inches wide by 6 inches in length to accommodate your best pen.

               Handcrafted pen sleeves make excellent gifts to protect that new pen!

Various styles/colors are offered and are included in my store. Very limited supplies of all my designs are now in inventory.

Visit my store for all of my styles, designs and new additions.

Thank you for visiting my store for all your premium writing and accessory needs.
Reviews