Nautical Pen - Rappahannock River Crib Dam Pine - Twist Pen - Handcrafted Wood Pen - Ballpoint Pen - Historical Pen - Antique Copper Finish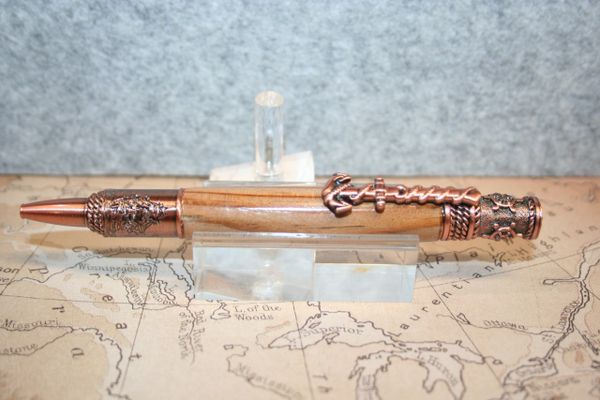 Nautical Pen - Rappahannock River Crib Dam Pine - Twist Pen - Handcrafted Wood Pen - Ballpoint Pen - Historical Pen - Antique Copper Finish
My handcrafted Nautical twist wooden pen in a beautiful piece of the original Rappahannock River Crib Dam Pine is trimmed in a beautiful and complementing engraved and embossed Antique Copper finish.  This attractive, premium twist pen features a Nautical Themed cap with a compass, Anchor clip and Sailing ship engraved nib. This handcrafted premium ball point pen is from my Nautical line of fine writing instruments. The pen has an excellent twist mechanism and a unique, fine styling.  This ball point writes extremely well having great balance and hand feel designed into it, and is a pleasure to write with.
 
My pens are great for personal use or as an exquisite gift for that special someone, birthday, wedding, anniversary, client, guest, holiday, etc.

This pen has a nice piece of the Crib Dam Pine from the 1850's for a little added distinction.

The trees this wood came from are very old and historic. They are from the Fredericksburg area of Virginia, and between 350 to 400 years old. They were seedling before the US was a nation.

They were witnesses to some of the first settlers arriving to colonize Virginia. George Washington
grew up not too far from them. They watched as the colonists fought for their independence, won, and
birthed this great nation.

When full grown they were harvested to be part of the dam that would provide power to the industry of
Fredericksburg. In December, 1854 the Crib Dam was completed. Comprised of pines and oaks, the dam was anchored in the Rappahannock River to divert water into the Fredericksburg Canal and drive its many mills.

The dam was in proximity to several battles in the Civil War, seeing service in The Battles of Fredericksburg and Chancellorsville, to name a few. It continued working hard driving industry until relieved by the Embry
Dam in 1910. For 94 years it rested under the waters of the Rappahannock. In 2003 the Embry Dam was removed to allow the river to run free once again and exposed the Crib Dam that had been submerged all those years.

Included with the pen is a Certificate of Authenticity. These former Crib Dam pieces make outstanding pens.  You can now own a piece of history.  As you can see from the pictures, the pen is quite exceptional!

All my pens are hand turned by me on my lathe and undergo a minimum 18 step finishing and polishing process to bring out the fantastic colors embedded within in the pine.

                                      My Custom Handcrafted pens make excellent gifts!

I do not use inferior woods, acrylic formulations or pen mechanisms in any of my pens or pencils or other turnings!

This wooden pen is handmade as a premium ball point trimmed in an Antique Copper finish and uses a Parker style of ballpoint refill.  Refills are readily available at stationery stores everywhere, or through the website.  This is a highly polished and exquisite pen and requires little maintenance to retain its high gloss and beauty.   

Check out my store for all of my styles, designs and new additions.

Thank you for visiting my store for all your premium writing and gift needs.
Reviews