Razor - Mach 3 Razor Handle - Pine Cones in Teal Alumilite - Hybrid Razor - Gillette Mach 3/Venus Razors - Shaving - Grooming - Satin Black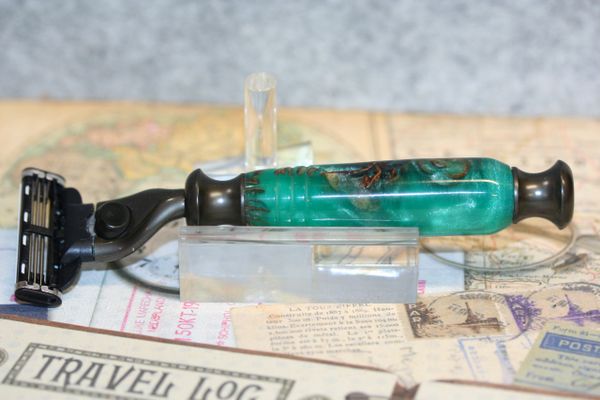 Razor - Mach 3 Razor Handle - Pine Cones in Teal Alumilite - Hybrid Razor - Gillette Mach 3/Venus Razors - Shaving - Grooming - Satin Black
My beautiful handcrafted razor handle that uses any Gillette Mach 3, Mach 3 Turbo or Venus style razor blades and refills.  This razor handle is handmade in Pine Cones infused within a Teal alumilite resin and topped off with a premium Satin Black finish.  The teal color meshes with the Pine Cones throughout this beautiful handle.  This razor will last for many, many years as the alumilite handle is water resistant (Not for soaking in water).
 
The razor handle is hand turned on my lathe and makes a fantastic gift.  The razor comes with one blade.  Refills can be purchased at any store.  This is truly a remarkable one of a kind handcrafted razor. A presentation box is  included.

This is a beautifully colored pen with the teal color and pine cones wrapping around the barrel of the handle. This is one fine razor handle and the premium Satin Black hardware blends in beautifully with the teal scheme.

This razor handle can be used by both men and women.

        Custom handcrafted razor handles make excellent gifts year round, to give or to keep.


Visit my store for all of my designs, styles and new additions.

Thank you for visiting my store for all your fine handcrafted personal accessories and gifts.
Reviews