Razor - Safety Razor - Blue Hawaii Acrylic - Handcrafted Razor - Acrylic Razor - Shaving - Grooming - Bath - Gunmetal Finish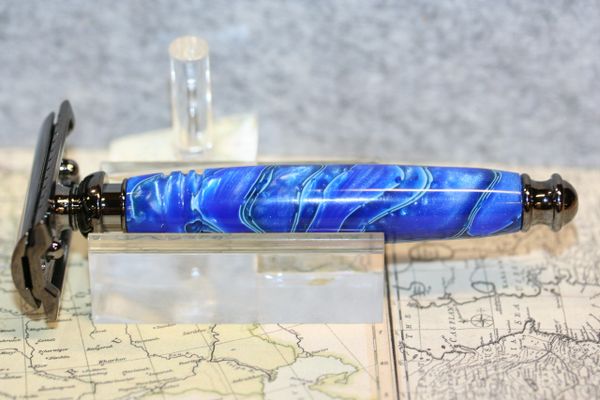 Razor - Safety Razor - Blue Hawaii Acrylic - Handcrafted Razor - Acrylic Razor - Shaving - Grooming - Bath - Gunmetal Finish
My fine handcrafted safety razor handle uses any safety razor and refills.  This handle is hand turned in a great piece of Blue Hawaii acrylic and topped off with a great Gunmetal finish.  This razor handle will last for many years and the handle is completely waterproof.  The razor head is screwed off the handle for adding and removing a razor blade.  My razor handles also accept my other razor heads as well as my toothbrush heads.

This makes a great gift for birthday, wedding, anniversary, client, guest, holiday, etc.  These make great bridal party gifts as well.

The Blue Hawaii acrylic has fine navy blue swirling with white color bands around the handle and all brought out with the fine gunmetal finish. The colors blend in beautifully and come together nicely in this razor handle. All of the Blue Hawaii colors are accented beautifully with the fine gunmetal finish to make one fantastic looking razor.  This razor accepts all safety razor blades.  The razor is excellent for either men or women and a must have for nostalgia shavers everywhere.
 
The handle is hand turned on my lathe and makes a fantastic gift, if not keeping it for yourself.  Safety razor refills can be purchased in almost any store.  This is a remarkable one of a kind handcrafted razor handle. The head can be completely removed for ease of cleaning and razor blade changing.

All my razors are turned by me on my lathe and undergo a minimum 18 step finishing and polishing process to bring out the great colors embedded throughout the acrylic.

My safety razors are available in the any of the materials that I stock.

    Custom handcrafted razor handles make excellent year round gifts to give, or just treat yourself!

Visit my store for all of my designs, styles and new additions. 

Thank you for visiting my store for your fine personal shaving needs, products and gifts.
Reviews